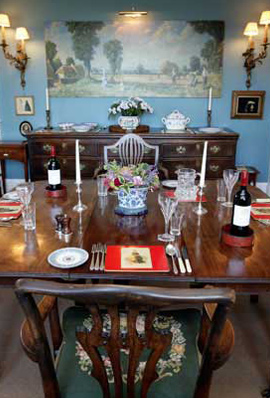 Prices/Rates
Includes a good breakfast and tea with home baking on arrival.
Double Bedrooms With En Suite Bathrooms
£110 per night.
---
Twin Bedroom With Private Bathroom
£100 per night.
---
Family Wing
One spacious double bedroom, two single bedrooms (all with great views) sharing one bathroom (£100 if only double room with private bathroom next door occupied) £90 double bedroom if sharing bathroom £50 each single bedroom (as little as £25 for families with children)
---
Single Supplement
£10 single supplement on all double bedrooms. £10 one-night stays.
---
Three Course Dinner
To be arranged before. £35 per head for three course dinner.
---
Pets
Dogs allowed, but no smoking in the house.
---
Payment
Payment by Credit Cards, Cheque or Cash.
Cancellation Policy
Unfortunately we have experienced some "no shows" and so we have to enforce a cancellation policy as follows: – In the event of cancellation, no charge will be made as long as written notification is received 7 days prior to your arrival. Please use either email or phone, otherwise a charge will be made as follows: – Cancellation received within 3-7 days of stay: 50% – Cancellation received within 48 hours of stay: 100% – If cancellation is not received and you do not arrive 100% will be charged.
---
For Enquiries And Bookings
Please call Jo on 01877 382326 and 07785 974841 or go to the
contact us
page and complete your enquiry/booking details. Following this we will get back to you promptly.